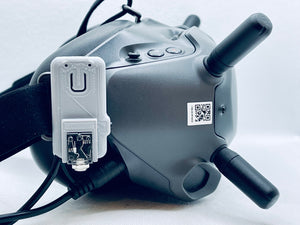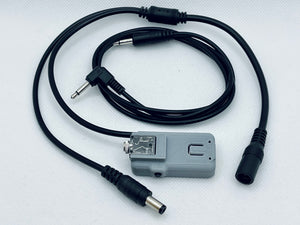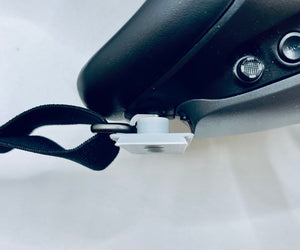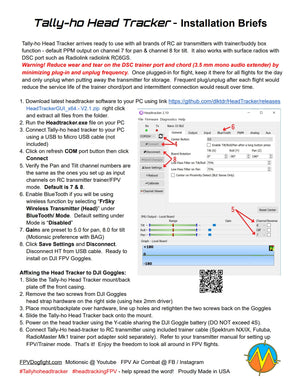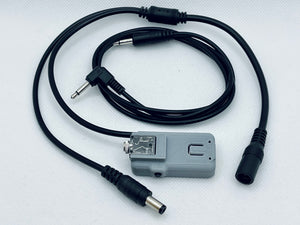 Motionsic Tally-ho Prebuilt Head-tracker
We are proud to introduce new "Tally-ho" head-tracker from Motionsic.  Indeed searching for and keeping aerial target in sight is easier than ever with "Tally-ho" head tracker! 
After months of extensive testing and fine-tuning at the flying field, we are excited to offer this reliable head-tracker to our customers. The "Tally-ho" head-tracker is compatible with most RC transmitters - Spektrum, FrSky, RadioMaster, Futuba (separate adapter required), Graupner, Jeti, etc. - and features both wired and wireless modes (FrSkyBluetooth/PARA trainer capable transmitter only) for versatility.  Use wired mode for unparalleled smoothness and fast action when paired with Motionsic BAG.  Use wireless mode for convenience and carefree head movement unencumbered by dangling trainer cable - slight latency and jaggedness noticeable with large/fast head movements when compared to wired mode.
Setting up the head-tracker is easy and straight forward. Treat the HT as a student transmitter and setup your own RC transmitter as the master for buddy boxing (training).  Instead of assigning flight control to student transmitter,  just assign pan and tilt channels (default Ch. 7 & 8) to the HT.  That's it!
Using Cliff's (dlktdr) open source head-tracker firmware and simple-to-use GUI; calibration, channel mapping, and customizing are made easy. The user-friendly setup is much improved compared to past head-trackers such as Fatshark Trinity and Quanum.
In addition to the above features, the case design of the "Tally-ho" head-tracker has been streamlined by Motionsic Jr. (Ethan Liao). The improved mounting plate is a one-piece design, using only existing DJI FPV Goggle screws for mounting. The "Tally-ho" case has been reinforced in several areas to increase durability and to prevent warpage under prolonged sun exposure.
For each "Tally-ho" head-tracker purchase, a $5 donation will be made to Cliff (dlktdr) to help support his continuing development of the open-source head-tracker project. This project has been a collaboration with medlinDrone and Cliff. 
This head-tracker case is specifically designed to mount onto DJI FPV Goggles V1 & V2. Optional flat case backing can be selected to mount to all other goggles with Velcro or other double side adhesive.
*DJI FPV Goggles not included
Download latest GUI to configure head-tracker on PC (to specify output channels on HT/must match input channels on RC transmitter trainer)
Tally-ho Prebuilt Head-tracker case design is open-source and is a remix of Wireless Headtracker design by DarKHawK which is licensed under the Creative Commons - Attribution license.