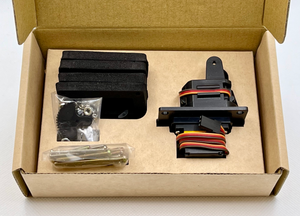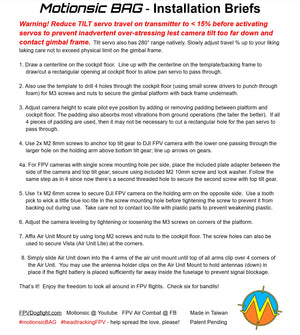 Motionsic BAG (Badass Gimbal) FPV Pan & Tilt
Compact Pan/Tilt FPV Camera Mount for use with DJI FPV Air Unit, O3 Air Unit cameras and other FPV cameras 19~20mm wide including Caddx Air Unit, Air Unit Micro, Nebula Pro, Polar, Walksnail Avatar HD Camera, etc. An adapter is included to accommodate cameras with single mounting hole per side (instead of two like the Air Unit camera). Designed to fit easily under most RC plane canopies 40" wingspan and up.  Can also be installed on RC cars, crawlers, boats, or copters for use with a head-tracker to provide realistic in-cockpit visual experience.  See In Cockpit Video example
Attributes:
Compact - fits under most RC plane canopies, needs only cylindrical space 40mm diameter, 50mm tall for full movement with the FPV camera; pan servo protruding beneath platform 23mm, platform dimension 36mm x 54mm (see pictures below), gimbal weighs 43 grams, air unit mount weighs 6 grams
Easy to install - use included screws and nuts to affix camera and platform to plane in minutes
Smooth/precise movement - includes 2x all-metal gear, digital, premium, high resolution, ball-bearing servos made specifically for Motionsic by Savox in Taiwan.  Compare with Savox SH-0257MG $35/ea.
Check six for bandits - our custom servos allow the camera to pan 280° to see 360° (with camera field of view) and tilt up 85° (and down 85° with O3 Air Unit Camera).
Easy to adjust camera height/level to scale pilot eye position by adding/removing foam pads and adjusting the tightness of individual screws on corners of the platform.
Dampens vibration -  foam pads also dampen vibrations from runway or road surfaces to make the visual experience pleasantly smooth.
UV resistant frame - impregnated with anti-UV polymer so gimbal frame stays robust with prolonged sun exposure.
Shock resistant - built to withstand minor plane crashes and keep on working!

* DJI FPV Air Unit/Camera not included
* Head-tracker sold separately, see other Products
* Not compatible for high voltage (>6V) use
Protected by Utility Patent, Made in Taiwan
(US Patent Pending #17/704123, Taiwan Patent #I 785689)