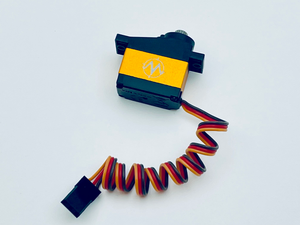 Motionsic "Check-six" Custom Servo
Motionsic "Check-six" Custom Servos for use with the Motionsic BAG. Proudly designed in the USA and made in Taiwan by Savöx.
Attributes:
Wide range of motion - features impressive 270° range of motion, allowing camera to view 360°
Durable and advanced - includes metal gear train, ball bearing, and metal case to dissipate heat for prolonged use in the cockpit
Digital signal - offers smooth and precise movement with strong centering
Custom-designed - only available through Motionsic, in collaboration with Savöx Taiwan
Compare with Savox SH-0257MG digital metal gear, metal case, ball bearing servo, $35/pc
Specifications:
Torque @4.8v - 1.8kg/25.0oz-in
Torque @6v - 2.2kg/30.6oz-in
Speed @4.8v - 0.13 sec/60 deg
Speed @6v - 0.09 sec/60 deg
Dimensions L x W x H (mm):22.8 x 12.0 x 25.4
Weight: 14.0g
Technical Details
Operating Temperature: 14° - 122°F (-10° - 50°C)
Running Current (no load): 150mA @4.8V, 180mA @6.0V
Stall Current (at locked): 1000mA @4.8V, 1200mA @6.0V
Idle Current: 5mA @4.8V, 5mA @6.0V
Wire Length: 250 ± 5mm
Output Gear Spline: 21 Tooth
Bearings: 1BB
Operating Travel: 270° (1000 → 2000 µ second)
Neutral Position: 1500 µ second
Pulse Width Range: 951 → 2049 µ second
Maximum Travel: Appx 300° (951 → 2049 µ second)
Exceeding Above Pulse Width Range would cause servo to spin continuously!
Refresh Rate: 240 Hz
Motor Type:

 

Brushed
*Servo horn NOT included.  Compatible with servo horns (21T spline) from Freewing 9 gram servo.
* * Not compatible for high voltage (>6V) use