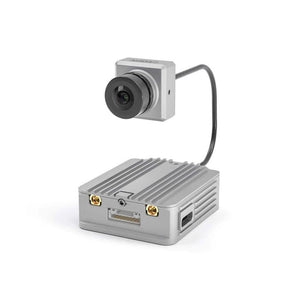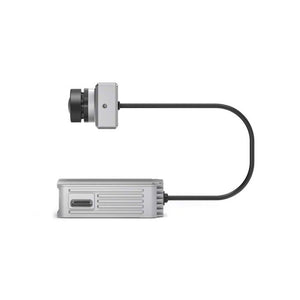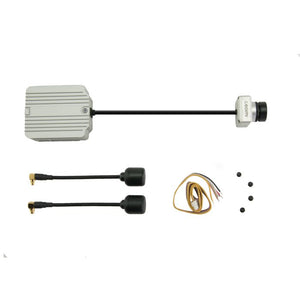 Caddx DJI Digital HD FPV Air Unit Micro Kit
The CaddxFPV Air Unit Micro Version is a 19x19 micro-sized camera with low-latency digital video transmission. The Air Unit Transmission technology utilizes a two-way communication system to stabilize signal connections, granting pilots more flexibility when flying through challenging areas.
Note: The air unit module does get very hot in use. Do not power on for an extended period of time without proper cooling (AKA flying).
Note: This air unit requires the DJI Digital HD FPV Goggles in order to work. However, using the DJI FPV Remote Controller is optional. The DJI Remote Controller is useful if you want to use their built-in Tx system.
12/2/2019 New Firmware update brings a host of updates and new features to the DJI FPV System!
Now distributed by Caddx FPV
Compatibility
Motionsic B.A.G.

Motionsic Clip-tight Air Unit Mount

DJI FPV Goggles

DJI FPV Remote Controller
Specifications
Weight:
Air Unit: 41.6g
Antenna: 3.7g(MMCX Straight) 3.9g (MMCX Elbow) 6g (reverse polarity female SMA)
Operating Temperature: 32 to 104 F (0 to 40 C)Input Power: 7.4-17.6V
Transmitter Power: FCC/SRRC: <30dBm CE: <14dBm
I/O Interface: USB-C, MMCX, 3-in1 Port, MicroSD
Output Power: 25mW3200mW/500mW/700mW
Video Transmission: 28ms Low Latency
Dimensions:
Air Unit: 44x37.8x14.4mm
Camera:20.7x19x19mm
Flight Control System: BetaFlight
Max Transmission Range: 4km
Coaxial Cable Length: 100mm
FOV: 150(D); 122(H); 93(V)
Goggle Compatibility: DJI
Closed Loop 4-in-1: Yes
Shutter: Rolling Shutter
Sensor: 1/3.2" CMOS
Effective Pixels: 4 M
Image: 720p/120fps
Video Format: MP4
Video: 1080p/60fps
Lens: 2.1mm, F/21
ISO: 100-256000
 Channels: 8
Channels Info
FCC
Channel 1: 5660
Channel 2: 5695
Channel 3: 5735
Channel 4: 5770
Channel 5: 5805
Channel 6: 5878
Channel 7: 5914
Channel 8: 5839
Tips
The air unit may become hot during or after operation.
DO NOT touch the air unit before it cools down.
DO NOT use the air unit for an extended period when there is no external cooling equipment. Otherwise, the air unit may overheat and enter overheat protection mode. 
Keep the antennas of the air unit at least 40 mm apart.
Keep the air unit away from metal objects or carbon fiber frames. Make sure to choose a position where the transmission will not be blocked during flight.
Includes
DJI FPV Air Unit Micro (with camera and two M2 screws) × 1
Three-in-one cable × 1
Antenna (MMCX elbow) × 2
LIMITED QUANTITY! ORDER NOW!